Yachting in Turkey 2023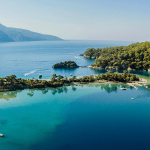 SAILING IN TURKEY
Sailing Holidays
in Turkey
August - October 2023
| | |
| --- | --- |
| Country: | Turkey |
| Price: | 450 € (per person) |
| | |
| --- | --- |
| Duration: | 7 days |
| Group: | 6 persons |
| | |
| --- | --- |
| Accommodation: | yacht |
| Difficulty: | 1/10 |
Fethiye - Kapi Bay (5 miles)
We meet in Fethiye at yacht marina 'Classic', which can be reached from Dalaman airport by bus or taxi. We check in, unpack our bags, buy minimum groceries and go out to sea. It will be a very short sail to a calm and nice bay called Kapi.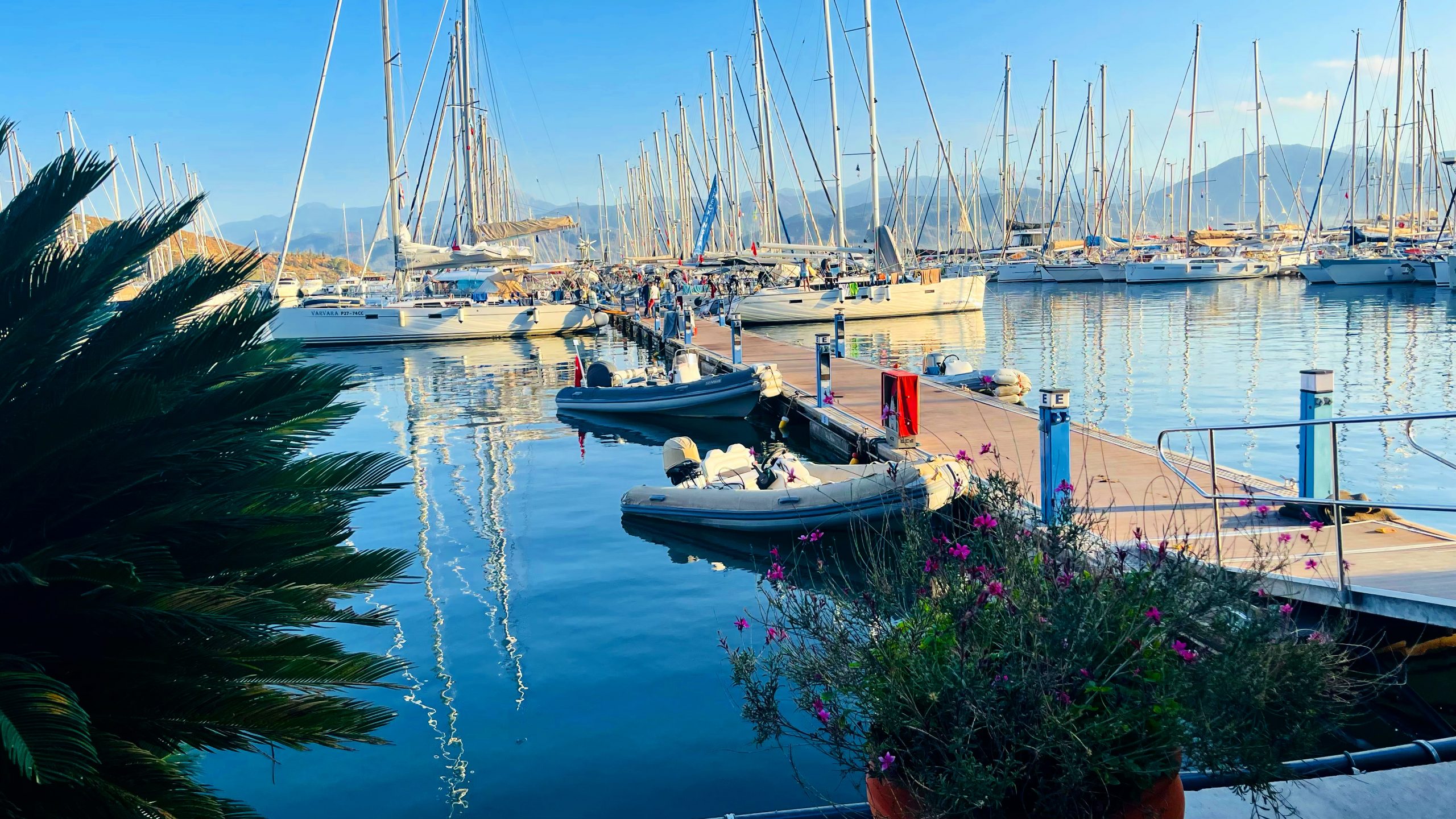 Kapi Bay - Cleopatra Baths - Gechek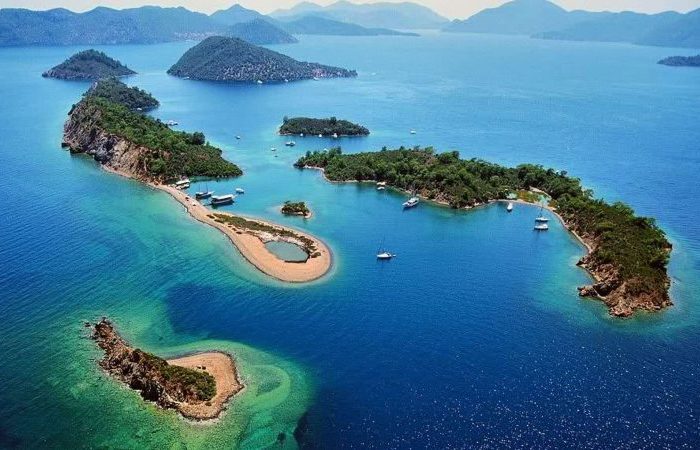 Kapi Bay - Cleopatra Baths - Gechek(18 miles)
Cleopatra baths are located in a beautiful bay with turquoise water and surrounded from all sides by pine forests. They say that many years ago a hot spring was discovered here, which had healing properties and Queen Cleopatra herself bathed here several times. According to legend, a bath in these waters can make you younger. We will stay overnight in the aristocratic town of Gecek, where we will have a promenade on the very atmospheric embankment street, so called Turkish Riviera.
Gechek - Gemiler Island (30 miles)
Gemiler Island, also known as Saint Nicholas Island, is a very popular destination for yachtsmen. Gemiler Adası means 'island of boats' in Turkish, because according to archeologists, St. Nicholas, the protector of sailors, was buried there. There are ruins of 5 churches and about 40 buildings on the island, and a tunnel that connects the two largest churches on the island. Just as in ancient times, we will drop anchor under the walls of this antique city and go on a fascinating excursion around the island.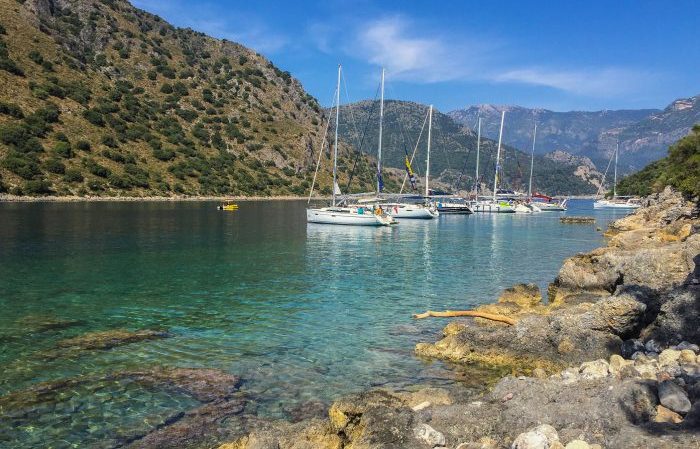 Gemiler Island - Ekinchik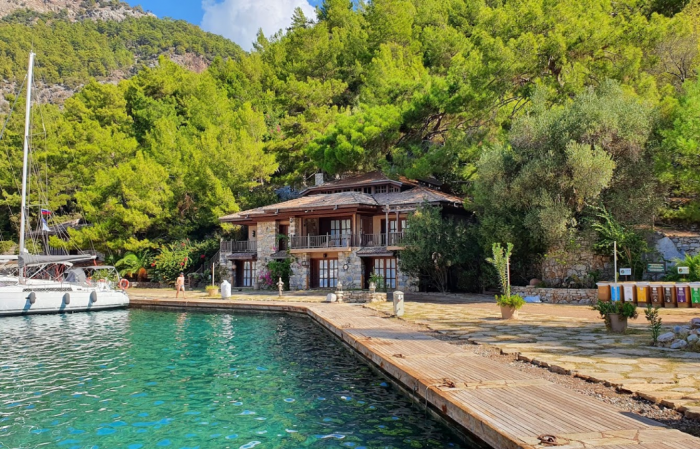 Gemiler Island - Ekinchik (15 miles)
After visiting the island of St. Nicholas and having received his support and blessing our route will follow the open sea towards Ekinchik. As a rule we pass this route without a motor, only using the sails. We learn to work with the winches, standing rigging, tying nautical knots and setting the sails. The parking place for the evening is Ekinchik Bay with a big sandy beach and a romantic beach restaurant.
Dalyan
Today we leave our boat moored near the pier and transfer to Dalyan by boat for an excursion. Our first stop will be to visit the ancient city of Kaunos, where we can see the old amphitheatre and climb the temple mountain, from where we have a spectacular view over the river valley and the town of Dalyan itself. Further on, our journey will continue through the reed beds upriver past the Lycian tombs and end at the Dalian town promenade. There are some thermal springs with medicinal mud, which we will definitely visit.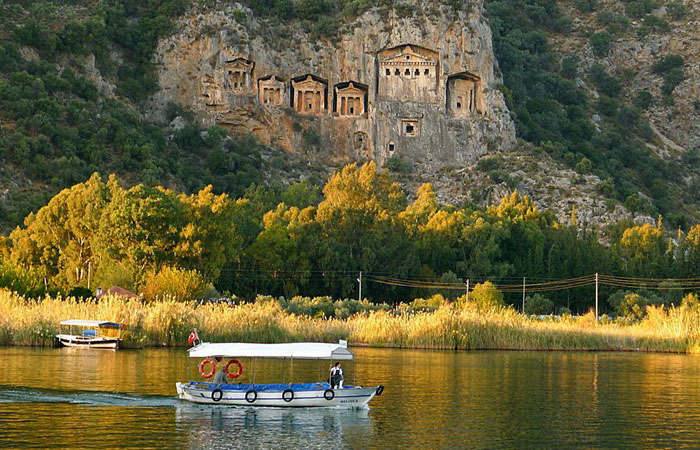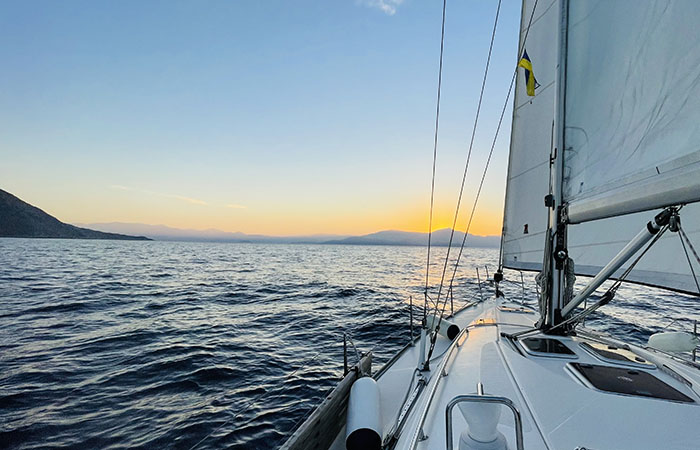 Ekinchik - Tomb Bay (18 miles)
Tomb Bay is one of the most beautiful spots of Fethiye Bay. The bay is surrounded on all sides by pine forest, perfectly sheltered from the wind and waves. It is ideal for swimming and relaxing. Everyone has something to do here. Some may start fishing with a fishing pole right from the boat, some may put on a mask and flippers and go to discover the underwater world, and some may take a motorboat and drive ashore to explore ancient tombs carved out in the coastal cliffs.
Tomb Bay – Fethiye (13 miles)
The return journey to home marina in Fethiye takes us along a number of picturesque islands with stops for swimming and photos. In the evening, as is tradition, the entire yacht crew gathers for dinner at the white-washed seafront restaurant to share the best photos, contacts and impressions from the past week.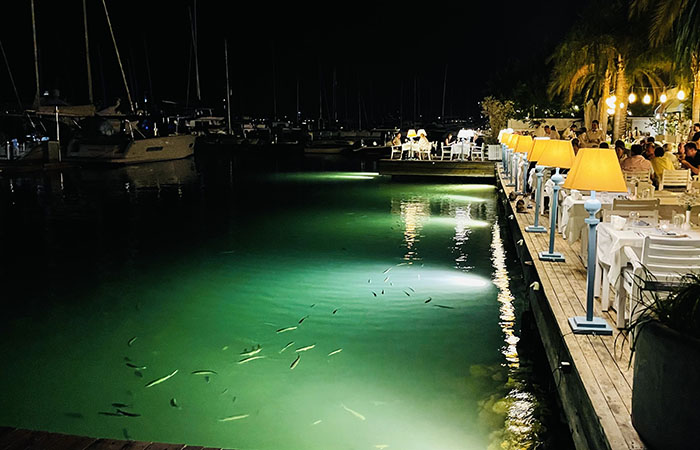 We will see, pass and visit the following interesting places and sights:
Fethiye city

Island of St. Nicholas

Dalyan town

Ekinchik Bay

Sarsala Islands
Yacht travel thread: Fethiye - Kapi Bay - Gocek - Gemiler Island - Ekincik - Dalyan - Sarsala Islands - Fethiye
Sailing in Turkey
Price for sailing in Turkey per week:
August - October - €450 per person.
Sailing in Turkey takes place from Friday to Friday every week.
Please fill in the form on the website with contact details or contact us on Whatsapp to check available dates.
Check-in is on Friday at 12.00
Check-out from the yacht is next week on Friday at 9.00am
Own yacht Bavaria 40 Cruiser, 2009, 3 double cabins, 2 WCs with showers, large sofa in lounge. Comfortabl accommodation for 6 to 8 people on the yacht.
The yacht has a comfortable stern with a sun tent and a dining table in the cockpit where the team spends 95% of their time.
Swim platform with a ladder allows for comfortable diving and swimming in the cozy lagoons.
The yacht also has a dinghy (a rubber boat with a motor for shore leave during anchorages), a stend up paddle board, fishing and snorkelling equipment to make yachting in Turkey a 100% experience.
The yacht has a fully equipped kitchen with gas cooker, oven, fridge, microwave for cooking on board. The entire crew takes part in cooking. The entire crew takes part when the yacht leaves the anchorage and when the yacht is moored.
The day sailings in Turkey will not be long, about 2 - 3 hours. There will be plenty of free time for swimming, sightseeing and walking.
The months of August and November are ideal for sailing holidays in Turkey. The sea warms up to a temperature of 25 degrees. There are no strong winds and no extreme heat. It is the best time for a holiday.
Welcome aboard
Included:
A place in a 2-bed cabin;

Captain services;

Bed linen and towels;

Dinghy, SUP-board, fishing set, WI-FI;
Not included:
Transfer costs;

Final cleaning - 80 €;

Food, fuel, marinas;

Restaurants, cafes, etc.
Check available dates
Send us a message and we will contact
you as soon as possible